Palestinians vs. Pro-Palestinian Israelis
"Normalization [with Israel] is an act of treason." — Large poster outside Ramallah peace conference.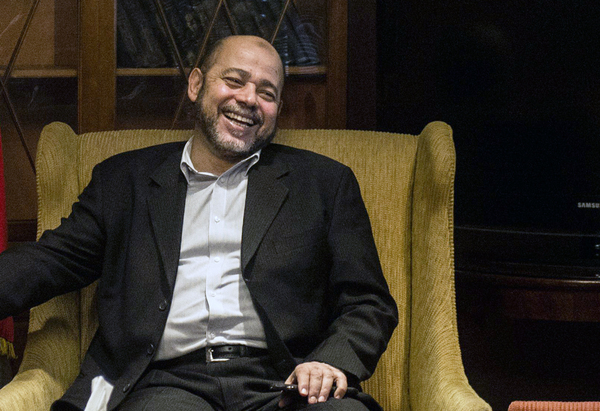 Palestinian protesters try to force their way into the "Minds for Peace" conference in Ramallah.
If 15 Israelis and Palestinians are unable even to talk about peace, what would happen if and when Palestinian Authority President Mahmoud Abbas signs a peace deal with Israel? Might he, too, find himself being escorted out of Ramallah under police protection for daring to talk peace with Israel?
"Israelis out, out! Palestine is Arab, from the sea to the river," shouted one a female protester. "This land is not for sale!" shouted another protester, as he tried to force his way into the conference hall.
Palestinian policemen who were rushed to the scene were unable to stop the protesters from damaging windows and doors as they hurled stones at the hotel.
The protesters also hung a large poster at the entrance to the hotel declaring, "Normalization [with Israel] is an act of treason."
The protest finally forced the organizers of the conference to call it off, with the Israelis quickly leaving Ramallah out of concern for their safety.
"The situation outside is very tense and we have to stop here," Ibrahim Enbawai, one of the Palestinian participants in the conference declared after a brief chat with the police commander. "There are hundreds of people outside and the police have asked that we stop the event."
The following day, January 9, the Israeli and Palestinian activists tried to meet at the Ambassador Hotel in Jerusalem. But here, too, they were confronted by dozens of Palestinian "anti-normalization" activists who forced the Israelis and Palestinians to leave the hotel in a humiliating manner.
Read all in Gatestone Institute: